Many things go into running a successful business. However, if you are looking to break ground in construction there are some very particular things you will need. Read on to find out what they are.
This is a contributed post. Please refer to my disclosure for more information.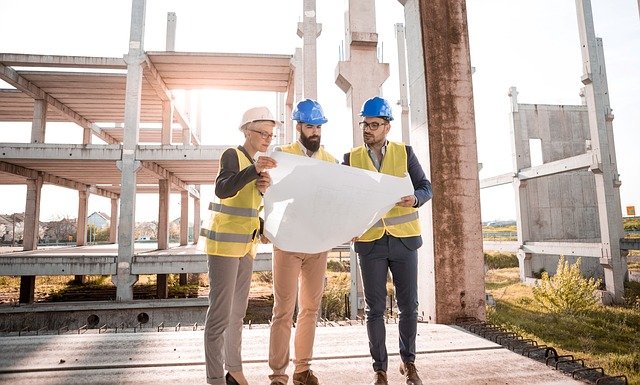 The right employees
Choosing hardworking and reliable employees is always crucial to business success. Yet, when it comes to construction, making sure that your workers have the right experience and licenses is also vital.
Indeed, construction is a very specialized industry, and as such it requires employees that have the training and experience to do incredibly complex and detailed tasks. For example, if you are looking to build houses you will need to find not only bricklayers but carpenters, electricians, plumbers, architects, and project managers.
The good news is that when it comes to construction many of these people can be employed on a contract basis. This means engaging them for only as long as it takes to complete a specific task. Rather than having a whole team on payroll over the long term.
The right equipment
In addition to well trained and experienced workers, your construction business will also need access to the correct equipment. Again, in construction, there is often a need for very specific pieces of equipment and machinery such as diggers, loaders, and cranes. All of which can be very expensive to purchase and run.
However, it is possible to keep operational costs low by hiring each piece for the specific job that is needed. Additionally, you can use red disease to power your equipment in the construction industry, which is often much cheaper than the regular kind. You can find red diesel prices online to compare. Just remember that it cannot be used in any vehicle that will drive on public roads in the UK.
The right insurances
Risk is an ever-present threat when it comes to construction. What with working at heights, heavy machinery, and other issues such as confined spaces. Of course, that means you will need to do everything you can to minimize such risk, both for your workers, and the general public. This often means sending your staff on a safety training course, using signage and providing them with the proper PPE.
Additionally, to be able to operate your construction business will require the right insurance. These will need to include appropriate coverage for construction work, and also need to be of a high enough value that they will cover the costs that a serious accident could result in.
An online presence
Last, of all, all businesses, even those in construction need an online presence. Indeed, in today's internet-savvy age, the first place that most customers look for a company that can meet their needs is online.
That means you need to have not only an impressive website but plenty of positive independent reviews as well. To that end, claiming your business on independent review sites and making sure that you respond professionally to any negative ones can help reassure potential customers that you are the construction company to work with.