While the notion of career freedom is usually intertwined with starting your own business, lots of prospective entrepreneurs are put off by the startup costs, but it's still an arena that provides more freedom than working for yourself. But, what is the best approach?
This is a contributed post. Please refer to my disclosure for more information.
Choosing your industry shouldn't be about which one makes the most money, but the right industry for you in terms of your passions. If you are looking to help others, the healthcare or medical industry could be a good option. Depending on where you are in the world, a medical startup can help to fill a gap in the market, especially in deprived areas, or on the other hand, providing resources for specific medical practices could be another way in. What are your general options?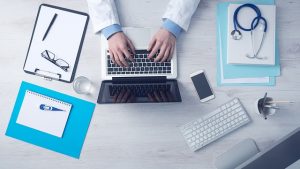 Providing Medical Equipment
Medical equipment is one of the biggest industries, and as such, you may find yourself in direct competition with the bigwigs. But the fact is that medical equipment is such a lucrative industry to get into, not just from the small implements like syringes or needles, but you can expand further into hospital beds, defibrillators, and similar lifesaving equipment.
Undertaking Laboratory Research
Laboratory research is an area that can be notoriously underfunded. Not just in relation to the specific research itself, but when laboratories struggle with funding problems, they can find themselves using old equipment, when they really need new, higher quality machinery and items to help conduct their research. While a second-hand inventory is better than nothing at all, when you have laboratories struggling with the sanitation side of things, providing the basics, from microplates to appropriate footwear, these little things are the foundation of a thriving laboratory.
Revamping A Medical Center's Content
You don't have to directly go with the research or medical side of things. Instead, you may benefit by revamping a medical center website or implementing social media or communications strategies. These tools are integral to getting any business out there now, and while there are so many medical startups out there, there are still businesses in direct competition with other medical centers, and this is where you can help to renovate the content and get them involved with social media, but also create an explainer video, a new website, or just give them the tools necessary to create their own content, so they are regularly advertising their business.
Providing Educational Resources
It would benefit your employees to be up to date on the latest policies and procedures, but it can help your patients, by creating and distributing pamphlets, but also, there are educational resources that people can use at home. We've all gone on to "Doctor Google" to diagnose ourselves, but it's more reassuring to get in contact with a helpline, or a reputable website that has medical professionals on standby.
The medical industry is so diverse that there are dozens upon dozens of options for the budding entrepreneur. Starting a business will always put you in direct competition, but at least in the medical industry, you are providing a service that saves lives.
What To Read Next
How To Create, Grow And Monetize A Brand New Instagram Account
If You're Not Making Money on Instagram, You're Doing It Wrong