The property development arena is potentially one of the most lucrative business environments of all. While there are many ways to make money from real estate, developing major projects is undoubtedly one of the best.
This is a contributed post. Please refer to my disclosure for more information.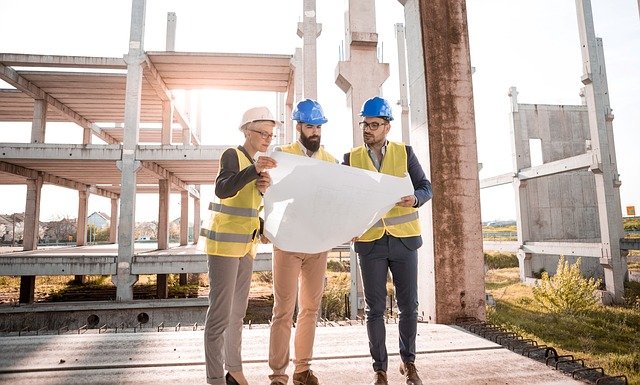 But building multiple homes and creating the surrounding infrastructure won't be easy. As such, you will almost certainly need help along the way. Here are the places you can turn to for that winning support.
Financial Backers
When taking on a major construction project or property development, it could require an investment of millions. While you may assume that this would make it impossible to get bank funding, the truth is that it may be easier than working with single properties. That is because only a percentage of dwellings need to be sold or rented for you to break even, which can make you a far less risky case in their eyes.
As well as bank loans, you may look to private investments. This could come from developers, crowdfunding, or tokenising real estate through blockchain tech. Either way, a strong business plan can help you secure the funding needed to get your project up and running.
Surveyors
Location scouting for the right plot of land is a crucial step that provides the foundation to build upon. However, it's not just about confirming whether the land is big enough. Choosing a heritage consultant to assess cultural sensitivity can be an equally important factor. Otherwise, your plans to build on the land could potentially break rules and regulations, leading to major fallout.
Moreover, you will want to know the situation of soil quality, local resources, and other issues that can affect your project. Likewise, an appreciation of any influence caused by the climate can guide your decisions. Researching other works in the area is key too. An upcoming town could see your investment soar.
Your Employees
As a business owner, you need to ensure that all aspects of the operation run smoothly. Otherwise, meeting your time and budget requirements could be very difficult. Recruiting project managers and construction teams will naturally play a significant role. In reality, though, there are a host of other job positions that need filling. This can be through permanent appointments or temporary contractors.
You will need architects, interior designers, and office teams to handle all aspects of finance and admin. As well as recruiting the right candidates, you must find ways to keep them engaged with their work. When you do, your hopes of completing the project without delays or unforeseen costs will be far greater.
Safety Experts
It's probable that you'll work with architects, interior designers, and engineers throughout the process. However, it's equally necessary to have health and safety experts on site. They can conduct risk assessments and a host of related tasks to ensure that your properties comply with regulations. This can cover the prevention of hazards as well as the right responses should fires or other issues occur.
When the property development has the right materials, safety items, and exit point in place, it's better for all. You'll avoid fines and the need to correct faults. Investors, landlords, homeowners, and tenants will be far happier too. In turn, this will go a long way to protecting your long-term reputation.
Marketing Experts
The "build it and they will come" mantra won't work. While completing the property development is a wonderful thing, it counts for little if you don't sell the units in question. Whether building houses, apartments, or a mall doesn't matter. You need to sell the dwellings at the desired price to see the right profit margins. In an ideal world, they'll be sold before they're even ready.
You can take on this assignment through in-house efforts. In most cases, though, working with realtors will be the better solution. Building a website to showcase the property development and arrange bookings at show homes can be beneficial. Getting a quick return can support your next move.
Estimators
Before committing to any project, you need to know that the finances add up. Of course, banks and lenders will scrutinise this. Nonetheless, you should know the finances yourself ahead of conducting the work. Estimators can help determine the costs of your projects as well as the anticipated sale prices. They can even take the real estate market trends into account for added accuracy.
You will probably want to do this before seeking financing as more detailed plans are more likely to help you get the desired results. Better still, having a rough idea of the end goal and the profits you can make will keep you motivated. And when you act with confidence, your development is more likely to thrive.