This is a guest post from Matthew Woodward, an award winning blogger and SEO expert. 
One of the biggest mistakes I see SEO's make, is they love to make things complicated.
But you don't have to make SEO complicated.
And trust me as an award winning SEO consultant – I know what I am talking about.

Please note this post may contain affiliate links. Please refer to my disclosure for more information.
You see it is always the most basic of SEO strategies that are the most effective.
I don't understand why people make it so complicated. And honestly…. there's no secret sauce to what I do!
The most effective SEO process is as simple as–
On Site Audit – A complete technical SEO while fixing problems
Link Building – Deploying a targeted link building campaign
So I wanted to show the results of that process from a client that sells high end furniture online via their ecommerce site.
I am also going to reveal the exact link building strategy we used!
But First Things First
Before I show you "how" we achieved results, I am going to show you the actual results.
I deployed the strategy you are about to learn way back in March 2015 which saw traffic quickly grow from 12,000 per month to 18,000 per month by the end of the year.
Flash forward to today though and the site now pulls nearly 60,000 visitors per month from Google-
As you can see in the video above that increased revenue from $100,000 per month to $1.2 million per month!
That makes for a total of nearly $16 million in total revenue.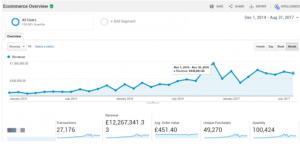 What makes this site interesting is it's competing directly against huge ecommerce stores and blowing them out of the water.
Which you can see clearly in Google Search Console-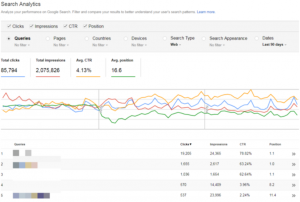 Traffic and sales will continue to grow as we move into the golden quarter of sales just before Christmas!
Revealing The Strategy Behind The Results
The problem with this niche is the top 20 results are highly competitive and mostly controlled by huge house name brands with national retail stores.
Because of that competition it meant that breaking into the first 2 pages was very difficult
That means we are up against some heavy hitters with some heavy budgets.
So we built our campaign around these main goals-
Ensure correct on-site optimisation

– The site had several crucial weaknesses with onsite SEO that needed to be resolved that were playing them in Pandas crosshairs.

Increase overall search visibility for long tail keywords

– There were lots of conversion focused long tail terms hovering around page 3.  These represented "quick win" opportunities.

Rank previously unranked keywords

– Once we had some quick wins under our belt we moved onto all of the relevant keywords that were ranking beyond page 5.

Push new keywords into the index

– Finally we had a list of core high search volume target keywords the site did not rank for at all.  These were the final keywords that we attacked.
Step #1 – The Audit
The first you should always do with any site is an SEO audit.  If you've never done – you should.
Literally 99% of clients tell me how good their on page SEO and they are always wrong.
Even my award winning SEO blog fails it's annual audit miserably, things change over time and you need to audit annually.
With this client we found a range of on site SEO problems-
URL Structure
Previously the website had a very basic physical silo structure in place with one category page targeting a wide range of different keywords-
example.com/dining-furniture/dining-tables
Now the site has a much more targeted and specific silo structure in place-
example.com/dining-furniture/tables/extending-tables
This allows us to target broader, higher competition keywords as well as lower competition long tail phrases at the same time.
We deployed the new URL structure and put in place all of the relevant 301 redirects to redirect old URLs to new ones.
Page Structure & Content
Another huge problem holding the site back was the overall structure of the pages and the content.
So we spidered the whole site to take of the most basic issues like missing and duplicate titles-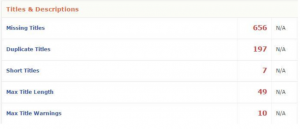 Not only did we overhaul the title tags but we also used other elements like the meta description and heading tags to target semantically related keywords.
Once we were done with that, things were looking a lot better-

Then we added unique rich content to each category and product page that aided in peoples buying decisions.
Step #2 – The Link Building Strategy
Once all of the on site problems were taking care of, it was time to leverage that new foundations with links.
Although this was an established business, the link profile left a lot to be desired so we had to pay attention to link velocity initially.
So when we started the link building campaign, we built very conservative links to the homepage with naked URL, branded and generic anchor texts.
Building The Most Powerful Type Of Backlinks
Our overall link building strategy was very simple.
But first let's talk about the holy grail of link building.  Since way back when in 1998 backlinks have been the most effective weapon to rank any website and that is still true to this day.
And while there are lots of different types of backlinks, the holy grail of link building is the single most powerful type of backlink you can get period.  
There isn't a stronger backlink on the planet.
And I guess you are wondering, what the holy grail of link building is exactly?
Well it is simply defined as
"a backlink from a relevant authoritative website surrounded by relevant high quality content".
That means that the site the link is coming from is authoritative in nature and the link is placed directly in-line with extremely relevant content in an editorial style.
You cannot get a more powerful backlink than that
And that is the type of link building that every SEO should aspire to.
Backlinks from authoritative websites in their niche surrounded by high quality relevant content.
It is these types of backlinks that are behind the rankings of the most competitive niches in SEO.
So all we wanted to do with our client was build backlinks from authoritative websites surrounded by relevant high quality content.
Now I know that doesn't sound simple!
But the easiest way to build those types of links is with the link building strategy I teach here.
Once we had built an initial base of authority we then started to target longer tail, conversion focused keywords which wouldn't bring large volumes of traffic…
… but they would begin a steady flow of sales for our client.
So we targeted long tail keywords with a minimum of 1,000 searches per month where we already ranked in the top 50.
Just be deploying a couple of links we were able to take each of these keywords to the first page quickly which resulted in steady increases in traffic and sales.
With these rankings established this is where we focused our efforts on the much higher competition higher search volume keywords
And it's these keywords that are responsible for the huge increase in earnings.
Keep It Simple Stupid
So remember, SEO doesn't have to be complicated.
You only need to do 2 things-
Complete an onsite SEO audit and fix all problems

An

effective link building strategy (using this top link building and SEO tool)
Oh and there is one more thing you need to do.
You need to decide to take full control of your search engine rankings once and for all! Get your free trial now for this top SEO link building tool and start skyrocketing your traffic >>
What To Read Next
Do you need a more basic guide on SEO to get you started? This blog post is the one for you 
Do you want to grow an email list for your website….fast? Take a look at this case study, and discover how you can get low cost leads using Facebook ads