If you work online, you know how important the surroundings you've sat yourself down in ot work are when it comes to your productivity. Maybe you're running your own retail website and you need to make sure the customer details section is storing everything securely; you're going to need all the right contact numbers and templates around you. And if you have a blog, which started off as a hobby and then turned into a good way to make yourself money month in and out, you're going to want to write out a new post every single day without getting distracted. So with all that in mind, it's clear you're going to need to make yourself the perfect online business space.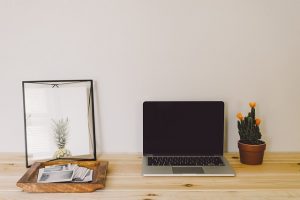 Keep Your Brand in Mind
This is a contributed post. Please refer to my disclosure for more information.
No matter what else you use the internet for, your home office needs to be the place you can do your online work better than anywhere else in the house. You're going to need a desk with your computer on and a chair to sit at in there at least, but you're also going to need elements and items around you that remind you what you're going to all this trouble for.
So if you're a beauty blogger, make sure you're sitting somewhere colorful that has a mirror and all your supplies nearby in case you need to do a palette review on the fly. Or keep your instruments, microphone, and samples in the space around you if you're an amateur musician who constantly needs to update their soundcloud.
Make it Healthy to Use
If you're spending a lot of time at your desk, you're going to need to change your routine to make sure your body and brain isn't stagnating in front of the computer. It's very easy to get a clot in your legs after all, and spending some time on your feet with a standing desk will go far to making sure you're healthy as you can be with such a sedentary lifestyle.
Your office needs to be practical and functional, so make sure that when you are sitting down you're at a level surface, and look into some laser cut shims if you know your desk is infamous for wobbly legs or a dented surface. On the other hand, put a cushion behind you in the chair if you know you're infamous for slouching.
Make it a Private Space
If you're meant to be in a business mindset once you get into your office, make sure anyone else in your house knows that, and always have the rule for someone to knock first before walking straight on in. At the same time, if you're designing your office from the ground up, try to keep it away from the main living area of the house.
Making yourself the perfect office is all up to you at the end of the day, but always try to put your productivity first. It's harder than it sounds considering the distractions at home!
What To Read Next
Find out what the latest must-have resources are for any online business this year
Grab my free 5-part series for building your email list, hassle-free (no opt-in required)
Use these 100 amazing and inspiring quotes to motivate you to launch your online business