Do you want to grow your business? If so, then you always need to think in terms of branding. The right branding strategy will encourage users to buy from your business or use your service when they have no experience of it before. It can dramatically increase your number of customers and ensure that your company is in a far stronger position to compete overall. There are lots of ways to build up your business brand. Some options are more beneficial to your company than others. Let's explore the key steps that you should take here and how they can get your business back on the right track.
This is a contributed post. Please refer to my disclosure for more information.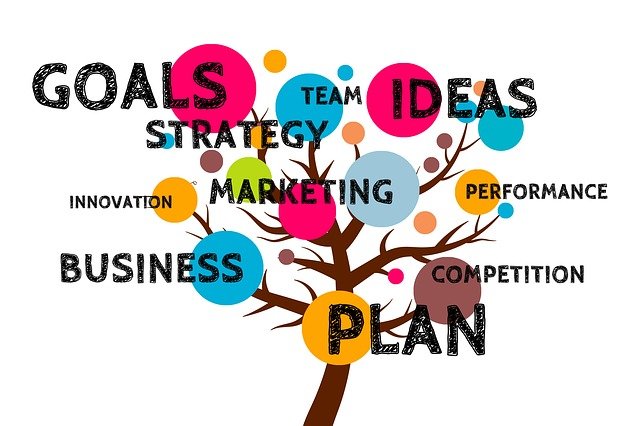 Blogging
First, you should think about setting up a blog. The benefit of a blog is that it can be the perfect portal to share a lot of information and content about your brand. It can help provide your clients and customers with the real value that they are searching for and ensure that you answer the key questions that might be blocking a potential sale or preventing them from committing to your company immediately. A blog can be part of a larger website or completely separate. We'll discuss this a little more further down.
Social Marketing
You could also think about using social marketing to your advantage. A big benefit of social marketing is that it allows you to engage and connect with users in a way that is completely non intrusive and still allows them to feel as though they are part of your business as well as what you are attempting to accomplish with your brand.
The trick here is to make sure that you are using the social media options that match your target audience. For instance, you might want to think about using Instagram if you are aiming to appeal to a younger target audience or if your products have an appealing aesthetic.
Web Design
Next, you should consider web design for your business. The right web design will immediately send the right first impression when clients discover your brand for the first time. If you don't get the web design right, then it's likely that they will immediately click away and may never look back again.
While it might be tempting to simply use a template for your web design and then work to customize it slightly, this is always going to be a mistake. Instead, you need to make sure that you consider hiring a professional web designer. They'll be able to craft a website that fits with the brand that you are building perfectly, down to the smallest detail.
Influencers
When you are promoting your business, you need to explore all the tools at your disposal. This includes influencers. Influencers are often viewed as one of the most beneficial marketing tactics today. They are widely valued by large marketing companies. So, what does this mean for your business? You need to make sure that you are working to explore which influencers would be interested in partnering with your company and how you can establish a mutually beneficial relationship. There are various data resources that you can use to find the right influencers who are going to provide the benefits that you need in your business model.
PR
Or, you could focus on PR. PR allows you to transform stories related to your business or that impact your company into real forms of marketing. There are lots of examples of PR. However, the first step will usually be to identify where there's a story that your clients will be interested in or that will result in a buzz around your business. For instance, you could focus on award achievements or perhaps a business expansion. Both of these options might be beneficial for your company in the long term and could gain the attention of the media who will then promote your business to the masses.
Promotional Merch
Another option worth considering is promotional merchandise. Promotional merchandise is yet another step that you can take to deliver additional levels of value to your client base. What does this mean exactly? Customers always want something more from your business and giving them items for free is a great way to show how valued you truly are. With promotional merch, you can get them to prompt your company for you. You just need to make sure that the items you sell are stylish and well made. Companies such as Mato & Hash will help you create fantastic merch that your clients are sure to love and use regularly.
Review Response
It's important to understand that more than 80% of clients will check the reviews online before they commit to purchasing a product or service from your business. What does this mean for you exactly? Well, essentially, you need to ensure that your reviews are positive. If you do have any negative reviews connected to your brand, then it's important that you do address them without any delays. In doing so, you can guarantee that you are far less likely to lose customers simply because one disgruntled client is telling the wrong story.
Use Your Customers
Another way that you can grow your brand is by using your customers to your advantage. There are a few ways that you can do this and we have already discussed some of the best options. However, you could also consider using user generated content. User generated content is essentially a free form of marketing. This means that you can promote your business more widely without paying any extra money and that's great news. It also helps form a deeper connection with your client base.
Pick A Slogan
A slogan can be another key piece of the puzzle when you are building your brand. You can think of a slogan as a snapshot of your business. It provides people with the key information to know exactly what they are going to receive if they buy from your business. Again, this might be something that you want to leave with your marketing team. Particularly, if you're worried about clashing with the marketing of your key competitors.
Think About Your Logo
Be aware that clients are more likely to remember your logo instead of your name. Psychological research demonstrates that it's always far easier for people to remember a logo. However, it does need to include the right design elements. For instance, you might want to think about choosing colors or images that are reflective of your brand message. One example of this would be choosing a logo that represents green ideas if you want to ensure that your business is viewed as a sustainable option for your clients.
Tell Your Story
Next, you need to make sure that you are telling the story of your brand. Regardless of what your story is, it needs to be engaging and interesting for your audience. For instance, you might want to focus your story around humble beginnings or why you decided to set up the business in the first place. You could also think about looking at telling a story around the team that you have chosen for your company. Don't forget, people often want to get to know the individuals they are buying from and see beyond the window of marketing. This is another reason why social media is often going to be important.
Be A Philanthropist
Finally, you might want to think about exploring a philanthropic cause with your business. In doing so, you can show your clients and customers that you are about far more than just crunching numbers. It will demonstrate that you are interested in making a real difference to the world that matters. For instance, you might want to think about setting up your own charity or getting involved in the actions of another charitable cause.
Research Your Competitors
You are always going to have key rivals on the market. This is true regardless of what industry you are a part of. There's always going to be other businesses and companies that your clients can buy from or explore. That's why it's important to make sure that you do understand who these competitors are, what they can offer, and whether they are leaving any gaps. It's possible that they are falling short in key areas. If this is the case, then it's worth taking steps to deliver a superior service and perhaps positioning your choices here as a unique selling point.
We hope this helps you understand some of the key branding options that you should explore for your business. By looking at the best possibilities, you can guarantee that your company is in a far stronger position overall. Remember, when it comes to branding the right way, you will always need to make sure that you are choosing a strong marketing agency to support you. When selecting a marketing agency, it's important to check reviews, referrals and various other information sources before settling on a final choice of company that is going to provide the benefits you need.