Trade shows are perfect for small businesses because they are an amazing opportunity to spread the word about your business and reach out to new and potential customers. However, there will be hundreds, if not thousands of other businesses at trade shows that want their time in the spotlight too. Whether you're a novice at trade shows, or you're looking at ways to attract more customers to your stand, take a look at these incredible marketing techniques that will make your business stand out at a trade show.
This is a contributed post. Please refer to my disclosure for more information.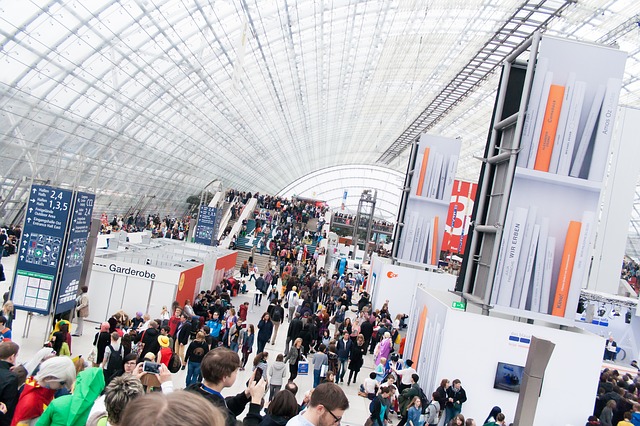 Announce your attendance
If this is your first appearance at a trade show – or that particular trade show – then it's important to make your attendance well known. Utilize your time in the weeks leading up to the trade show to talk about your attendance. You could provide 'sneak peeks' at products appearing on your stand, or you could record quick interviews with staff members about what they're most excited about at the trade show. You should also post on social media with your hall and stand number, along with any other information so people will know where to find you. Doing this helps create a buzz about your stand and the trade show in general. You should also use the time to create a mailer for your subscriber list to let them know about the trade show.
Design custom made marketing material
As mentioned above, there will be many other competitors trying to gain the attention of the crowd at a trade show. One of the biggest caveats of a trade show is trying to stand out from the crowd. Using custom made marketing material will help, and you should look at areas such as:
Leaflets to hand out before and during the trade show. Give out leaflets to customers in the weeks running up to the event, and take a member of staff or two to the event to scour the halls and invite people to your stand.
Advertising banners for your stand are a great way of catching attention, especially if it's eye-catching and on-brand. Use custom banner printing services to help create banners that will stand out from the crowd and entice people in.
Consider using TV screens with videos and slideshows to help showcase your brand and its products. People respond positively to video content and are likely to stick around to see what you're about.
Give people an incentive to visit your stand
So you're showcasing at a trade show – so what? Using this attitude will help you find ways to give new, existing, and potential customers incentive to come and visit your stand. People love getting something for nothing, and simply visiting your stand at a trade show is a great way of alluring people in. Here are some great ideas on how to do that:
Bring a friend to our stand and receive 'x' amount of points on your loyalty card.
Share our post and we'll give you a free cup of coffee when you visit our stand.
Come and find our stand for a money off voucher for your next purchase.
You can advertise this on social media and email marketing for maximum effect. Remember to reward returning customers generously, as this will keep them coming back again and again.
Find unusual merchandise
You'll find that pretty much every stand at the trade show will be giving away some sort of merchandise such as pens and lanyards, but is that what people really want? Think about what industry you're in and create unusual but alluring merchandise to help bring people to your stand. For example, rather than offering a mug, why not create protective clothing with your logo on it to give away? This could be a beanie hat or a reflective vest, and people are more likely to find this useful and most importantly, remember your brand name for months, even after the trade show has ended.
Live stream your stand
Finally, trade shows often last over the span of a few days, and you should utilise this by live streaming your stand to bring more people in. take advantage of Facebook and Instagram live features to show off your stand, your real-time product demonstrations, and you could even conduct short and exciting interviews with staff members and attendees. This will help attract more people to your stand over the coming days, and benefit your social media status too!
With these tips, your next trade show will go off without a hitch, and you'll reap the benefits sooner rather than later!
What To Read Next
How To Start An Email List On Your Brand New Blog (List Building Series: Part 1 Of 5)
My Top Recommended Resources For You