Everyone is online in this day and age, and it's possibly the most effective form of communication. With 3.2 billion people using the internet worldwide, it's no wonder that businesses have benefited from creating a website for their customers to explore. However, while creating a website isn't exactly rocket science these days, it takes more than a simple layout and your details to make a website that will work for your business. Take a look at these tips on how to create a reputable website so that you can expand and accelerate your sales!
This is a contributed post. Please refer to my disclosure for more information.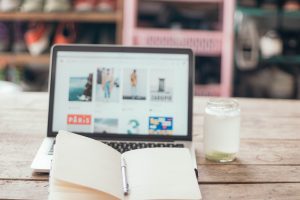 Know who your target audience is
While it would be lovely to be able to please everyone, it's simply impossible to do so. That's why, as a business owner you need to know who your target audience is so that you can tailor your website around them. For example, if you're selling household furniture, it's likely that a large percentage of your customers will be new homemakers. Building your website to appeal to them will benefit your business because you will have more chance of people recommending it if it's built well.
SEO is your best friend
SEO (search engine optimisation) is super important when it comes to building a website. This is because the better your SEO is, the higher chance you have of ranking within search engine results. If you're not clued up on how SEO fully works, it might be a good idea to invest in professional help from marketing companies such as Searchable so that not only can they boost your SEO, but also help you create a beautiful website that your readers will love.
Create content that's useful to your readers
While it's understandable that you want to website to display what you've got to offer, it's also a good idea to have content on there that can help your readers. Going with the example of household furniture again, you could have articles written that might give new homeowners tips with DIY, furniture care, and even decorating ideas. If your website isn't useful to your readers, it's less likely that they will stay on it for long, or even return.
Make your website easy to navigate through
Finally, one of the most important things to remember when creating a website is to make it easy to navigate through. While modern website designs look great, they can often leave readers baffled and unable to find what they came to your website for. A great idea is to always have a search bar available, your contact details, and a link to take them back to your home page. Keeping it simple and elegant will ensure that your readers find what they came for, and more importantly, come back to your website again!
What To Read Next
How To Easily Get Your Blog Visitors To Sign Up To Your Email List (List Building Series Part 2 Of 5)