Promotional networking events are criminally overlooked by startups across many business sectors. When used to their full potential, they can enhance your company in many ways. From fundraising to securing big B2B orders by retailers and organisations, a single event could change your future. While there are several objectives to consider, it all starts with impressing your guests.
So, before worrying about anything else, you need to know that the event will leave a lasting impression. Here's how.
This is a contributed post. Please refer to my disclosure for more information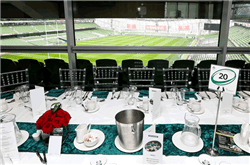 Prepare Your Pre-Event Marketing
If your business can build a positive image before the day of the event has arrived, you should grab hold of the opportunities with both hands. Most prospective guests will conduct a little research first. This is why a winning website and a well-worded letter of invitation are vital. The invitations themselves offer the perfect solution. Two examples are handcrafted bespoke designs and using eco-friendly materials. Aside from setting the right platform to build upon, this step will give you confidence.
Offer A Grand Welcoming
Once the big event arrives, a lot of guests will make judgements from the second they enter. While picking a suitable venue or event space is vital, you must present the brand in a positive manner. Experts at Branded Corporate Gifts can help you create the perfect gift pack for your guests. Meanwhile, it's important that your employees greet the guests in a friendly tone. A glass of bubbly can work wonders too. While these steps will increase the cost of the event, the rewards are infinitely greater.
Use Visual Supports
Whatever the purpose of the event might be, you need to get your points across with clarity. If you are not used to speaking in this type of environment, make life easier with videos and presentations. Guests will retain more of the information while it's the best way to ensure you won't miss key features. The content can also be provided to them after the event itself. This will allow them to digest the info at their leisure while it is also an opportunity to put them on the sales funnel once more.
Book A Guest Speaker
People are easily impressed if you know how to make just the right sort of impact. They love to see a famous face, not least because it encourages guests to make a mental link between your brand and professionalism. If well-known people seem to be behind your company too, the results can be fantastic. Finding the right guests via The Speakers Agency can turn the excitement for your event up to 11. The entertainment aspects are a great way to break up the professional tone of the event. If nothing else, the event will be more memorable.
Practice
Ultimately, the success of the event will relate back to the conversion rates and guest responses. Therefore, it's crucial that you take the time to rehearse what you will say. Speaking with confidence and passion will influence their thoughts. Developing those skills and testing your timings will have a positive impact. Likewise, discovering which employees are best suited to support you is another major step. When the event runs smoothly and naturally thanks to your familiarity with the content, success is assured.
What To Read Next
This $1 Tool Can Be Your Secret Weapon For Great SEO
If Your Pinterest Traffic Isn't Growing, Here Are 8 Ways To Fix The Problem